Welcome to my web site! Besides my custom & regular production models, it contains pictures of many proto-type models that I've built while evaluating loudspeaker components during my ongoing and never ending quest of affordable & State of the Art loudspeaker systems. I buy, measure, test, experiment & play with many different drivers & combinations to determine which components offer the greatest performance & best value for my designs.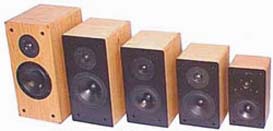 I started building loudspeakers during my college days in 1973 because I loved music and I couldn't afford the best systems around at that time. As a classical musician (piano, organ & guitar) and cabinet builder, I decided to build my own speakers and save all the money that the
manufacturers, distributors, wholesalers and retailers pass on to the consumer.
By eliminating all of that expensive overhead and purchasing FRITZSPEAKERS direct you can now own some of the finest quality high-definition loudspeakers available at a very affordable price!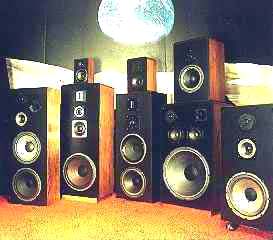 I have bought, sold, played with, tested & experimented with lots of commercial speakers and audio equipment over the years and I have designed & built many different loudspeaker systems. I usually have several different models in stock and available in Cherry, Maple, Oak, Walnut & Mahogany for immediate delivery and I custom build systems in other woods & finishes to order in 3 or 4 weeks.
I'm always working on a couple of new proto-type designs as I buy & test & try out the latest new drivers & cross-over parts whenever they become available in my on-going & never ending quest of reasonably priced high performance & state-of-the-art loudspeaker designs.
I get the same speaker drivers that are typically used in real expensive & highly rated loudspeaker systems. As you probably know, most companies that sell loudspeakers do not actually build all (or any) of the component parts that go into them. There are hundreds of manufactures around the world that build woofers, midranges & tweeters. About 6 or 8 European companies are widely recognized as building some of the finest drivers available. My systems utilize top quality driver units mainly sourced from Vifa/Scanspeak, Morel, Seas & Peerless.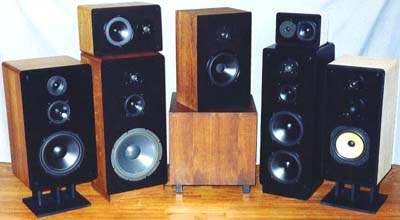 I use excellent quality premium parts in the crossover filters and I
select and measure all the components to match each other to less than 1% tolerances. The custom hand-built enclosures are fine furniture grade quality cabinets & my loudspeakers look, sound, perform and measure great.
Fritz loudspeaker systems come with a full money back guaranty (less shipping) if you are not absolutely delighted with their performance. You need to see them in your home and hear exactly how they will sound & work with your specific audio equipment and in your own acoustic environment.

Fritz loudspeakers look, sound & measure great!